---
CUSTOM MAGNETIC REED SWITCHES and sensors, actuators, and subassemblies from renowned U.S. industry experts
---
Our highly experienced applications engineering is available to assist in the selection of the proper magnetic reed switch sensor and actuator for your needs
More than 50 years of global industry experience across a wide variety of applications, market sectors, and industry projects
Optional design engineering consulting services allow for cost-effective, efficient integrations of your magnetic reed switch solutions into finished product designs
Value added services, including terminal and connector application, on request
Exceptionally fast turnaround on prototypes and modifications of standard models
Personalized, professional service and extensive resources to meet your unique needs
All products are designed, assembled and shipped from the U.S.A.
We are a 100% woman-owned and State of Wisconsin WBE certified small business.
POPULAR CUSTOM MAGNETIC REED SWITCH OPTIONS
CASE – Celanex, Celcon, Lexan, Epoxy Resin, Valox, Anodized Aluminum, Stainless Steel and Brass
REEDS – SPST (A), SPST-NC (B), SPDT (C), Varying Sensitivity, Wattage (0.25W – 100W)
MAGNETS – Alnico, Ceramic, Flexible Neodymium, Samarium Cobalt and Custom Molded
WIRE – Teflon, PVC, etc., 18-26 AWG
CABLE – PVC, Shielded, etc., 18-26 AWG
CONNECTORS – Molex, Packard, Threaded, Weather Sealed, Snap Lock, Lug, Phone Jack, Quick Disconnect and AMP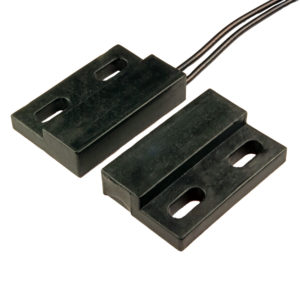 opens IMAGE file Magnetic reed switches from Reed Switch Developments Corp. are known for their fast-acting, high-reliability performance. The switches are free from mechanical wear and are hermetically sealed, ensuring years of reliable service within demanding environments. Most assemblies are also UL recognized and RoHS/REACH compliant. With the company's in-house development and manufacturing capabilities, custom reed switch developments of any sized quantity may be accommodated, with production lead times as short as ten business days. Custom magnetic reed switch actuators are also available with a large selection of permanent magnets, mating with the switch. This includes custom molded magnets, configured to meet user-specific mounting, and operational requirements.
With each custom reed switch project, the company's talented in-house applications engineering team applies more than 20 years of field-proven experience, working in close collaboration with customers to identify a unique "best fit" solution. These discernments are based on a multitude of application and performance parameters, further drawing upon an extensive portfolio of thousands of legacy success stories. All Reed Switch Development Corp. products are 100% developed and assembled in the USA at the company's state-of-the-art manufacturing facility in Racine, Wisconsin, USA.
Need help getting started? We're happy to support you! Please click here for a copy of our custom worksheet.
---
Note: It shall be the responsibility of the buyer to ensure that the custom magnetic reed switches provided are sufficient and suitable for the purpose(s) intended (whether by the buyer or by any third party) and that their capacity and performance is not adversely affected by any items used in their installation (where relevant) and/or otherwise in connection with them.