---
AN OVERVIEW OF COMMON MAGNETIC REED SWITCH ACTUATING POSITIONS
---
MODE A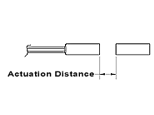 ---
MODE B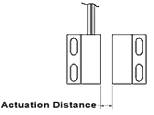 ---
MODE C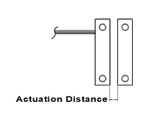 ---
ALTERNATIVE MAGNETIC REED SWITCH ACTUATING POSITIONS
---
PERPENDICULAR ACTUATION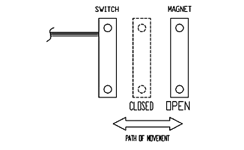 With an perpendicular actuating position, the magnetic reed switch only closes once with each magnet pass, keeping the switch closed for the maximum magnet travel.
---
PARALLEL ACTUATION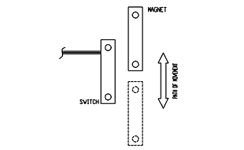 With a parallel actuating position, as many as three closures with the maximum magnet travel area are possible, though only one closure can be provided with restricted movement.
---
FRONT-TO-BACK ACTUATION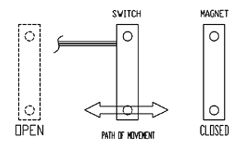 Front-to-back magnetic reed switch actuation is similar to parallel motion, except for the fact that motion is at right angles to the magnetic reed switch and therefore completely bypasses the switch.
---
PIVOTAL ACTUATION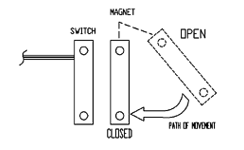 In the case of pivotal magnetic reed switch actuation, the magnetic reed switch closes once per pass. Wide angle magnet movement is therefore necessary to achieve one switch closure.
---
SHIELDED ACTUATION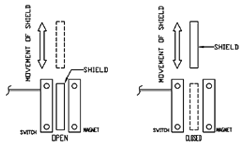 In the case of shielded actuation, the magnet and magnetic reed switch are permanently fixed in position with normally closed (NC) contacts. The magnetic reed switch will therefore open when a shield of magnetic material is inserted between the magnet and switch.
---
ROTATIONAL ACTUATION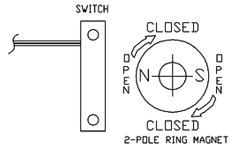 When the magnetic pole and magnetic reed switch axes are both parallel, as in the case of rotational actuation, the magnetic reed switch closes. When the axes are perpendicular, the magnetic reed switch opens. Two or more closures then occur with each revolution, and depending upon the number of poles.
---