---
Magnetic Reed Switches, Sensors and Actuators for Medical Diagnostic Equipment
---

The compact size and accuracy of magnetic reed switch sensors make them an ideal choice for non-critical medical diagnostic equipment. Reed Switch Developments Corp. can support a number of these applications, including:
Portable and stationary diagnostic equipment
X-ray and EKG machines
MRI and CT-scanners
Neurostimulator machines (physiotherapy)
Kidney dialysis equipment
Stress test equipment (instrumented treadmills)
Surgical suite equipment low-current power switches
opens IMAGE file Magnetic reed switches from Reed Switch Developments Corp. are known for their fast-acting, high-reliability performance. The switches are free from mechanical wear and are hermetically sealed, ensuring years of reliable service within demanding environments. Most assemblies are also UL recognized and RoHS/REACH compliant. With the company's in-house development and manufacturing capabilities, custom reed switch developments of any sized quantity may be accommodated, with production lead times as short as ten business days.
They are available in SPST, with choice of NO or NC contacts, and SPDT configurations. Customers may choose from a variety of reed materials with varying sensitivities and wattages (0.25W – 100W). A wide selection of available case materials include Celanex, Celcon, Lexan, Epoxy and Valox. Aluminum, stainless steel and brass housings are also available for more extreme applications. Custom magnetic reed switch actuators are also available with a large selection of permanent magnets, mating with the switch. This includes custom molded magnets, configured to meet user-specific mounting, and operational requirements. Various wire and cable options are also available, with the most popular insulating materials in 18-26 AWG sizes. Connectors can also be supplied, including AMP, Molex, JST, Packard, threaded, weather sealed, snap lock, lug, and other types.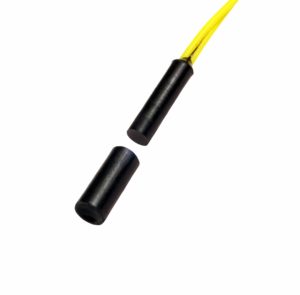 opens IMAGE file With each custom reed switch project, the company's talented in-house applications engineering team applies more than 50 years of field-proven experience, working in close collaboration with customers to identify a unique "best fit" solution. These discernments are based on a multitude of application and performance parameters, further drawing upon an extensive portfolio of thousands of legacy success stories. All Reed Switch Development Corp. products are 100% developed and assembled in the USA at the company's state-of-the-art manufacturing facility in Racine, Wisconsin. Find out how Reed Switch Developments Corp. can help support your Medical Diagnostic Device and Equipment magnetic reed switch sensing and actuation requirements. Contact us todaycreate new email for a consultation.
---